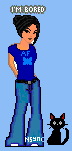 Well this is a little better...sorta.....hey at least Penny's with you.. You know you're one of my oldest friends? Lets see how many years was it....hmm...well I met you in 1st....no wait....maybe 2nd.....ah screw it I've known you for a long time but the only real thing I remember from "back in the day" is asking you how to spell "because".


It's way off, I know....ah well.


I think this doll is pretty close. I mean it looks like you. I doubt you have that shirt but who cares.


Lara - 2 bad I don't know wut you look like. I like all the dolls to be almost exact but ah well. YOU STOLE SARAH's VOICE!! And your an evil twin!!!